Skip to Content
Roofing Experts In Houston, TX
Our Roofing Services Will Protect You from the Elements
Your roof is one of the main lines of defense between your family and the elements. With Houston's unpredictable weather, your roof's dependability is essential. Berger Home Services is proud to help homeowners throughout Space City ensure their roofs are in exceptional shape. We provide preventative roof maintenance, roof repairs, roof replacements, and even gutter services.  We have been a trusted partner in the community for more than a decade. Our roofing contractors have extensive industry experience and are committed to exceeding our clients' expectations. Whether you are aware of a roofing problem or merely want to prevent one from developing, we can help. Call us today to learn more.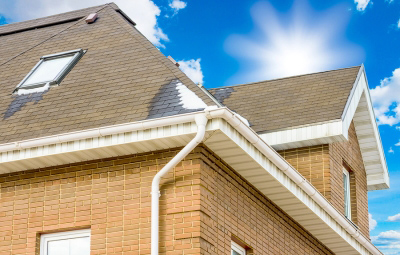 The Dangers of Ignoring a Leaking Roof
Some household chores are less time-dependent than others. You may be able to delay pressure washing your driveway or repainting your interior walls. But you should never ignore roofing problems. A leaking roof can lead to more significant issues that may impact your home's structural integrity or safety. The dangers of ignoring a leaking roof include:
Attic and Ceiling Damage – Water that leaks through your roof can negatively impact your attic and ceiling. This may ruin your belongings and necessitate costly repairs.
Mold and Mildew – When moisture is ever-present in your home, you run the risk of developing mold or mildew. Either can aggravate respiratory problems and weaken your home's structure.
Structural Insecurities – Over time, water will deteriorate your beams, joists, floors, and walls, which could leave your entire home vulnerable to disaster.
Warning Signs You May Need Roof Repairs
Though a leaking roof is a telltale sign that you need roof repairs or replacement, it is not the only indicator. Berger Home Services can help you identify causes for concern on your roof. We will gladly visit your home to inspect your roof's stability and condition if you need assistance. But let us know right away if you notice any of the following:
Missing shingles
Cracked or warped shingles
Leaking, damaged, or clogged gutters
Moss or algae growth on your roof
Dark spots or blistering on your roof
Bald spots where granules are missing
We Provide Comprehensive Roofing Services
Berger Home Services is among Houston's leading roofing companies. We handle inspections, repairs, replacements, and anything else you need to keep your home and family safe. If you notice any potential issues with your roof, let us know. We will perform a thorough inspection to identify any vulnerabilities. With this information in mind, our experts will help you determine whether roof repairs or roof replacement is your best course of action.
Generally, roof repairs are all you will need to remedy a small leak or a few damaged shingles. But roof replacement may be in your best interests if your roof is at least 20 years old, the damage is extensive, or the cost of repairs exceeds half the price of replacing your roof altogether. Our professionals are trustworthy and reliable. We will never recommend something you do not need. Let us walk you through your options and the benefits of each before you make a decision.
Why You Should Choose Berger Home Services
We recognize that our customers are our lifeblood, so we treat each of them as if they are our family members. Our team at Berger Home Services prides itself on delivering complete customer satisfaction with every project. We promise to complete your roof repairs or replacement on time and on budget. As a family-owned and -operated company in Houston, TX, we know our reputation and sustainability depends on it. While we are at your home, we can even assist with other improvement projects. In addition to gutter services, we can also help build or mend wood fences on your property.
Contact Berger Home Services for Roof Repairs Today
The durability of your roof is critical to your family's safety. You can count on Berger Home Services to provide an array of affordable roofing solutions for your Houston, TX home. We use only the best materials for our roof repairs and replacements to give you peace of mind that your roof will protect you for years to come. Contact us today for a free estimate.
Get Your Free Estimate Today!