Skip to Content
Professional Roof Repair in Houston, TX
We Repair Leaking Roofs
Your roof is one of the most critical elements of your home or commercial building. Berger Home Services provides professional roof repair services for home and business owners in Houston, TX. Leaks are common in the area from storm damage, but you can count on our team for roof leak repair to keep your home or business protected from the elements. We offer flat roof repair, commercial roof repair, and other services. Get in touch with us for a free estimate and to learn more about your roof repair cost.
Residential & Commercial Roof Repair Experts
Some home and business owners shudder at the idea of needing their roofs replaced. Our team starts with a thorough roof inspection to determine whether repairing or replacing your roof is your best option. A roof renovation is not a bad thing. Even though it can take longer and be more expensive than a simple repair, you will enjoy the benefits for years to come. Whenever possible, roof renovation will save you time and money compared to a total roof replacement. Berger Home Services has our process down to a science. Our services include: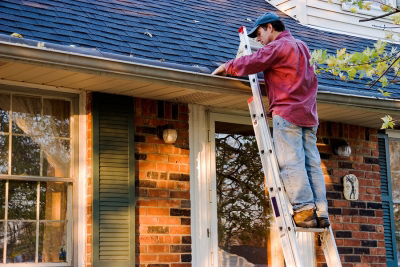 Inspection – Our team of experts has seen it all and knows what to look for. We use the latest technology to detect leaks. We're equipped with infrared devices, moisture scanners, and more.
Repair – You may not need a new roof after all. We will work with you to repair and extend your existing roof to save you thousands of dollars.
Maintenance – Our innovative roofing solutions can extend the lifespan of your roof to save you money and hassle over time.
Signs You Need Your Roof Repaired
Sometimes it can be challenging to know whether or not your roof needs to be repaired. Most home and business owners don't go up on their roofs very often or have trouble seeing their roofs from the ground. Storms and hurricanes in the Houston area can wreak havoc on your roof, requiring roof repair and sometimes roof replacement. A leak is the most telltale sign that you need a roof repair, but there are many other signs as well. Our team will visit your home to perform a roof inspection because we realize you may not know what to look out for. If you notice any of the following signs, be sure to contact us right away: missing shingles, leaking, clogged, or damaged gutters, warped or cracked shingles, moss or algae growth on your roof, bald spots where granules are missing, or dark spots or blisters on your roof.
Types of Roofs We Repair
Berger Home Services repairs all types of roofs, including asphalt shingles, ceramic tiles, slate shingles, wood shakes, and cedar shingles, metal roofs, and more.
Asphalt Shingles – As the most common roofing material for homes in the U.S., our team has repaired numerous asphalt shingle roofs. As an affordable roofing option in a variety of colors and styles, asphalt shingles will often need to be repaired or replaced every 15 to 20 years.
Ceramic Tiles – These roofing tiles can last up to 75 years but may require repairs from time to time. Ceramic tiles are fragile and can be damaged by strong winds.
Slate Shingles – This sophisticated option is easy to maintain and can last for 100 years but may require occasional repair.
Wood Shakes & Cedar Shingles – These roofing materials hold up to the sun's intense rays and strong winds from hurricanes but may need the occasional repair.
Metal Roofing – This lightweight and the environmentally friendly option is great for many buildings but does require repairs from time to time.
Roof Repair & Other Services
While we excel in roof repair, we also do a lot more. We can replace your roof and install a new roof for your home or business in the Houston, TX area. We proudly deliver complete customer satisfaction with every project. As a family-owned and -operated roofing company, we value customer service and communication. Our other services include gutter repair, installation, cleaning, replacing, and guards. We also work with wood fences. Contact us today to schedule service or get your free estimate.
Get Your Free Estimate Today!