Skip to Content
Commercial Gutter Repair by the Experts in Houston, TX
At Berger Home Services, we provide commercial gutter repair to property owners all throughout the Houston, TX area. Though adequately caring for your building's gutters is an often overlooked maintenance task around the home, we always stress the importance of proper gutter care to our customers. Over the years, there's not much we haven't seen. And neglecting your gutters is a sure-fire way to cause severe damages to your commercial building, whether it be to the roof, siding, or foundation. Ensuring your property's gutters are in good shape will not only safeguard you from a headache, but it can also save you a fortune in the long run.
Commercial Gutter Repair for Our Houston Neighbors
We understand water damage is never part of your business' plan, but when it does happen due to a malfunctioning gutter, call on our team for quick and effective repairs. Gutter leaks can become dangerous if ignored, and even though it may seem like gutter repair is a DIY job, it's always best to rely on trained professionals to rectify the problem the first time, so you don't have to deal with more issues down the line. Berger Home Services can repair any type of commercial gutters, including:
Aluminum Commercial Gutters – These popular and seamless gutters are great for both residential and commercial use thanks to their lower price tag and variety of color offerings.
Galvanized Steel Commercial Gutters – As a cost-effective and long-lasting gutter option, galvanized steel gutters deliver on durability, making them a great commercial choice.
Metal Commercial Gutters – If you're looking for a gutter type offering unrivaled strength, our custom-made metal gutters are for you. Did we mention they're weather resistant?
Seamless Commercial Gutters – Seamless gutters offer property owners the best results due to their customization options. By taking the exact measurements of your commercial space and creating gutters perfectly fit to your home, you're left with gutters that have no choice but to do their job efficiently.
Sectional Commercial Gutters – When you need a custom-designed gutter system, don't hesitate to count on our team. We will create the piece for you right in our Houston warehouse, so you don't have to go anywhere else for the solutions you need.
We Offer Free Estimates on Commercial Gutter Repair
As a family-owned business dedicated to serving our Houston neighbors with commercial gutter repair and installations, we are happy to offer free estimates for every job we do. As part of our commitment to our loyal customers, we never upcharge or make you pay for services that should be common courtesy. Over the years, we have made it our duty to take care of our fellow commercial property owners. This is why our gutters are made of the highest-quality materials and backed by prices created to not break your budget. By choosing our seasoned team for comprehensive commercial gutter repairs, you not only save money, but you also create a lasting relationship with a company that has your best interest in mind.
Why All Commercial Buildings Need Gutter Maintenance
You might be wondering why gutters are important to maintain when you are in charge of a commercial property. Your commercial building gutters are very different from the gutters on your home. When you have a larger building, it collects more water when it rains. That means you need bigger and more complex gutters. When commercial gutters and downspouts become damaged or clogged, you will need a team of professionals. This is why gutter maintenance is crucial for all commercial buildings. If you neglect maintenance, you will eventually end up with a clog, standing water, or damage to your building. When you hire our gutter maintenance team, we'll keep your gutters in prime condition by keeping them clear and performing routine coating treatments.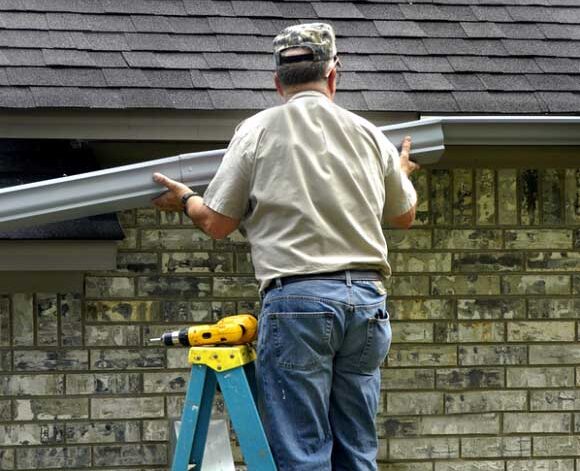 Signs That You Need Commercial Gutter Repair Services
It may not be obvious to the average building owner or property manager when your commercial box gutters need repairs. The gutters on commercial properties are often built to handle enormous amounts of water, so they can be damaged for a long time before you notice water leaking through your ceiling. Some of the tell-tale signs of a gutter in need of repairs include:
Visible clogs or debris built up in the gutter
Clogged downspouts
Leaking or otherwise punctured gutters
Standing water that will not drain
Missing, detached, or broken hangers
Gutter Services Made for Commercial Properties
Businesses can expect nothing less than reliable craftsmanship from our team at Berger Home Services. We have seen the severe damage that poor gutter and roofing services can cause to a business. We're here to prevent that. We let you focus on the day-to-day of your business while we handle all the water protection and redirection needs of your building.
If You Need Any Roofing Services While We're Up There
While our commercial roofing repairs are second to none, we also offer exceptional roofing services. Not sure if your roof is safe? We can do an inspection. If your roof is in good shape, it may just need some professional roof cleaning. If there's any damage, our roofing repair team has affordable repair services for you. If it's time to install an entirely new roof, we know how to make the entire process quick, exciting, and hassle-free.
Contact Us Now for More Information!
When it's time to have someone come to your Houston, TX business for commercial gutter repairs, you know you can rely on Berger Home Services. So, what are you waiting for? Give us a call today and discover for yourself how our team can exceed your expectations.