Skip to Content
Benefit From Our Experience
Berger Home Services
Serving Greater Houston, TX
 Berger Home Services Offers Commercial Gutter Installations
If you are looking for quality commercial gutter installations and repairs in the Houston, TX area, Berger Home Services is here to assist. We are a full-service roofing and gutter company with a crew that is ready to take on your next project, no matter the scope. 
Any highly skilled gutter professional knows that the seamless gutters on your home are there to protect the integrity of the roof itself. If you would like to have your clogged gutters inspected by a thorough professional, let someone on our team climb up there for you. Our gutter professionals are known for high-quality work, and we are fully licensed and insured according to industry standards. 
Professional Gutter Services
No matter if you need gutter replacement at your residential property or commercial gutter installation, we can get the job done quickly and within your budget. We serve both commercial and residential property owners throughout the area with our comprehensive gutter solutions. Our services include: 
Gutter Repair – If your gutters begin exhibiting rust, peeling paint, or uneven segments, call our team for gutter repair. We will ensure to repair your gutters, so you don't have to deal with any expensive or severe damage to your roof or siding in the future.    
Home Gutter Installation – A quality gutter system can extend the life of your home and prevent serious issues in the future, such as roof damage, mold, and mildew growth, or flooding. As your trusted source for gutter installations in the Houston area, our team will provide reliable installations that work to protect your building from the elements.  
Commercial Gutter Services – We only use high-quality materials for our gutters. We are proud to be able to give commercial property owners peace of mind in knowing that our products and services protect their building as well as those inhabiting it.  
Gutter Replacement – If the gutters on your commercial or residential building are cracked, showing visible signs of water damage, or sagging out of place, we highly recommend gutter replacement to protect your property. 
Gutter Cleaning Service– Though your gutters play a critical role in maintaining your roof, exterior walls, and foundation. Do not compromise one of the most important aspects of your building; call on our seasoned team for routine gutter cleanings.   
Gutter Guard Installation – With gutter guards, you get gutter protection from things entering your system and causing clogs or other costly damages. Keep out twigs, leaves, animals, and more with this stainless-steel mesh solution designed to save you hassle and money.  
Check out our gutter services page to see the full list of solutions we can offer our Houston, TX neighbors. When you need the job done right the first time, you know the team to call! 
Safeguard Your Home with a Thorough Gutter Installation
At Berger Home Services, we often find that homeowners in Houston are not aware of how important it is to have your rain gutter maintenance. Though gutters may be an easily overlooked component of your home or business, this system works to safeguard everything within your commercial or residential building. In other words, gutters prevent rain from penetrating the roof's surface. 
In addition, all the bugs that collect in a gutter may have made it into your home if it weren't for this protective channel surrounding the roof. Some additional benefits of properly installed and maintained gutters at your commercial or residential property include the following: 
Prevent flooding under your building and in its basement 
Preserve your landscaping and turf by avoiding erosion 
Stabilize the soil around your building 
Avoid foundation problems 
Prevent water damage to your building's siding 
Reduce the chance of water staining the brick or stone masonry on your property 
Lessen the chance of settling and cracking of sidewalks, patios, and driveways on your property 
More easily preserve the exterior doors and overhead garage doors on your property 
By hiring our team of experts to keep your gutters clear, adequately mounted, and free of holes, you not only save on time and money. You will also have peace of mind knowing a caring and knowledgeable crew maintained your gutters. Plus, if you want to keep these installations from filling up with debris as quickly, our team can put a gutter net or gutter flusher in place. With this device, your commercial or residential gutters will begin performing as effectively as they should.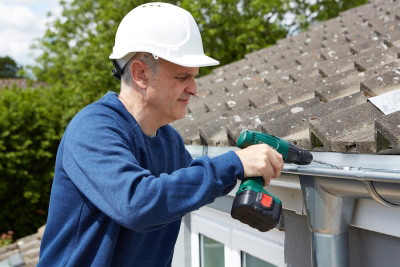 Commercial Gutter Repair by a Team That Cares
If your gutters have become moldy, cracked, or have fallen off the side of the house or business, our gutter professionals have a solution to rejuvenate these critical building components. We will make every attempt to get these structures back in mint condition before the next heavy rainstorm hits the Houston, TX area. No matter the size of the job, we can handle it! 
In addition to comprehensive repairs, we offer residential and commercial gutter installations in a variety of colors and materials to seamlessly match your building. Our company is locally owned and operated, meaning we are sure to respond quickly to your request. 
Contact Us Today for A Free Estimate!
Whether you need heavy-duty 24-gauge metal gutters or seamless aluminum gutters for your commercial or residential property, Berger Home Services can help. Not only do we provide Houston, TX property owners with a full range of roofing solutions for our residential customers, but we are specialized in commercial gutter installation and repair as well. For custom-made sectional gutters made with the best materials in the industry, be sure to contact us. We look forward to improving your property with our services.   
Why Choose Us?
Won the 2013 Angie's List Super Service Award
Won the 2013 HomeAdvisor Best of Award
Members of the Better Business Bureau
Are fully insured with general liability insurance
We accept credit cards
Family Owned and Operated
Call Now (832) 447-1444