Skip to Content
Gutter Repair Services in Houston, TX
Rain Gutter Repair & Other Services
Your home's rain gutters play an essential role in keeping your roof and property safe from rainwater. The professionals at Berger Home Services provide gutter repair services for homeowners in Houston, TX. When you need rain gutter repair because they've stopped working correctly, you need a reliable team to come in and fix them before your property suffers severe and expensive damage. As an established gutter repair company in Texas, we can get your gutters working the way they should. We can repair gutter downspouts, eavestroughs, and gutter aprons and provide fascia repair. Learn more and get in touch with us for a free estimate.
Signs You Need Gutter Repair
Having your gutters and downspouts repaired can be essential, but you need to know what to look for that indicates you may need these services from one of the best gutter companies in Houston, TX. Our team can repair aluminum gutters, perform fascia repair, apply gutter sealant, and more. It's essential to get your rain gutters repaired as soon as problems arise. If left untreated, gutter issues can cause significant damage to your home. We have seen all kinds of issues over the years, and below are just some of the telltale signs that you need to get your gutters repaired:
Uneven Gutters – If your gutter segments no longer line up with each other, water can't travel all the way to the downspout and will leak.
Peeling Paint or Rusting Metal – Peeling paint and rust can be a tremendous eyesore, and the eavestroughs can also corrode and fall apart.
Water Pooling Near Foundation – Water pooling around the base of your home is a sign that your gutters are not doing their job correctly. Downspouts should take the water safely away from that area. If left unchecked, this issue can result in serious foundation repairs.
Visible Cracks in Gutters – Cracks can lead to water seeping through your gutters and can break entirely from structural weakness.
Gaps Between Gutter Segments – Gutters are made up of many attached pieces. When gaps begin to form between them, water cannot be carried properly.
Nails or Screws on the Ground – If you find nails or screws on the ground near your home, your gutters are likely coming loose from your roof.
Visible Mold or Mildew – Mold or mildew can accumulate in multiple places from water pooling from a malfunctioning gutter, including on exterior walls, in your attic, or on wooden pieces of trim.
The Benefits of Gutter Repairs
Your gutters are an essential part of your home, helping rainwater drain away from your house. Clogged or dirty gutters can cause property damage and result in other hazards. Gutter repair, maintenance, and cleaning can provide many benefits, including:
Extending Lifespan – Clog-free gutters can prevent blockages that can compromise your home drainage and result in water pooling and seeking into roof gaps.
Reducing Repair Costs – Faulty gutters can weaken your home's foundation. Costly repairs may be required if any runoff or overflow affects your home.
Eliminating Hazards – Sagging downspouts and gutters can put you at risk, and clogged gutters can result in ice-damming.
Preventing Flooding – When gutters get clogged with leaves and other debris, they can overflow or break, compromising the structure and foundation of your home.
Deterring Pests – Insects and rodents like to build nests in gutters which can clog them up.
Improving Curb Appeal – Clean gutters look nicer and having gutters that don't leak or overflow can prevent your garden or landscaping from forming unsightly mud pits and puddles.
Other Gutter Services
The team at Berger Home Services also specializes in other gutter services for your home, including:
Gutter Cleaning – If your gutters need a good cleaning, leave it to your professionals. Our cleaning services include removing debris from your gutters, so you don't have to spend time doing the dangerous job or climbing up on your ladder.
Gutter Installation – If your current gutters are beyond repair, we can replace them for you by installing new gutters for your home.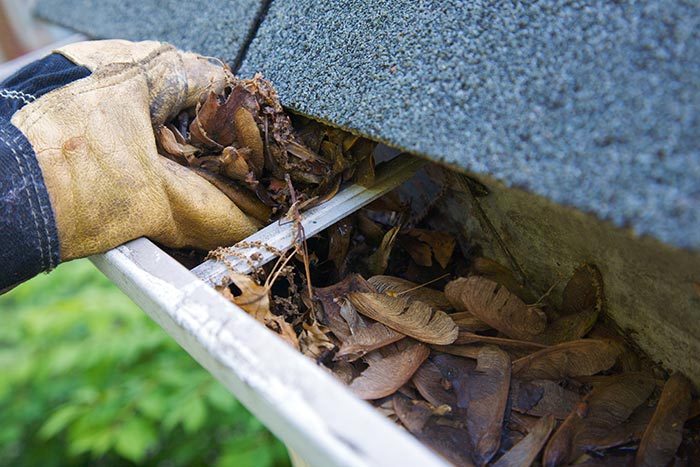 Gutter Cleaning
Sometimes gutters look bad, but simply need a good cleaning. We offer cleaning services to come in and remove the debris from your gutters, keeping you from having to get on the ladder.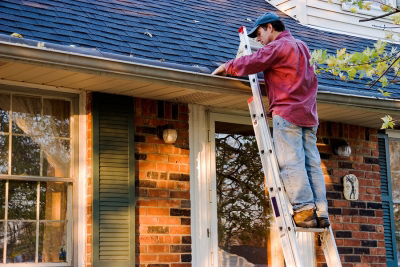 Get Your Gutters Repaired Today
If you are experiencing any warning signs, it's time to get in touch with Berger Home Services to get your gutters repaired. Waiting too long to get your gutters repaired is a recipe for disaster. Our team has seen gutters come crashing to the ground, taking pieces of homes with them, and smashing things as they fall. Rather than letting something so costly and dangerous happen, why not nip the problem in the bud? Our team offers free estimates and can to come take a look at your home or business to determine the scope of the damage and decide the best course of action. No matter how seriously damaged your gutters are, we have a solution that fits your needs. Contact us today for a free estimate or to schedule service.
Get Your Free Estimate Today!