Skip to Content
Gutter Cleaning In Houston, TX
Berger Home Services Offers Quality Gutter Cleaning
Call on Berger Home Services for spotless gutter cleaning and regular maintenance for your Houston, TX home. Our highly experienced technicians know how to best take care of your rain gutters and gutter guards. Although maintaining your home's exterior may not seem all that important, routine gutter cleaning is crucial for upkeeping your roof. Protect your roof and keep your home's structure from being compromised, schedule a gutter cleaning with Berger Home Services today!
The Importance of Keeping Your Gutters Clean
It can be easy to forget about your gutters and neglect to have them cleaned, but if you go too long without a proper gutter cleaning, your house could be in trouble. Without routine cleaning, clogged gutters can cause water damage to both the interior and exterior of your home. Efficient and clean gutters keep water flowing away from your home, thus protecting it from water damage. When they are clogged, they are unable to efficiently distribute the water, which can lead to a leaky roof and hefty repair costs. Not to mention, clean gutters keep out pests. Clogged gutters are the perfect nesting ground for mosquitos, birds, and other critters you probably don't want as roommates. Plus, the longer you wait to clean your gutters, the more at risk your home is to foundational cracks and damage.
It may seem like gutter cleaning is rather inconsequential, but it can make a world of difference in protecting your home when done correctly. And when you choose Berger Home Services to clean your gutters, you avoid the danger of climbing a ladder to fish out any clogged debris. At our reasonable prices, it will be well worth your time and effort to call in our professional gutter services.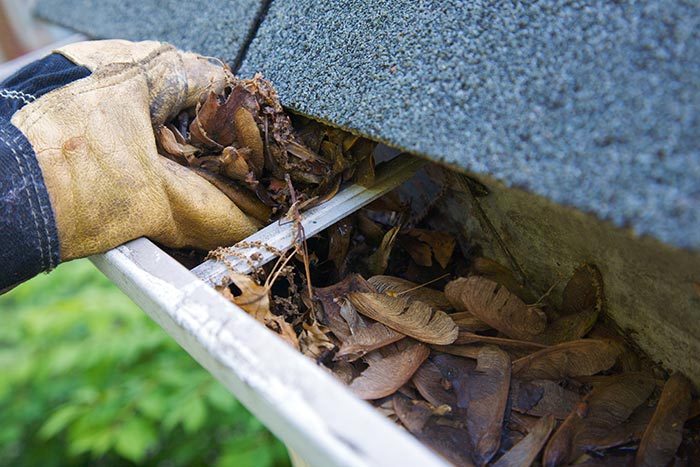 Our Process
As your Houston, TX gutter experts, we take great pride in our tried and true process. Before we even clean your gutters, we will make sure they are structurally sound and properly attached to the sides of your house. Then we will inspect for bends, damage, and potential rust. We will ensure the chutes are positioned to direct the flow of rainwater off the top of your roof. This helps preserve the structural integrity of your roof as it prevents water and debris from gathering on the structure. If your gutters are in bad shape, we can get them back to working order. You may benefit from our gutter repair and gutter replacement services, as well as the gutter cleaning you requested. No matter where you live in the Houston, TX area, we can help keep your gutters in peak condition.
Schedule Your Gutter Cleaning Today
Nobody wants to stick their hand in a channel full of insects and moldy, decaying leaves. Luckily, with the help of Berger Home Services, you don't have to. Instead of spending hours on a ladder chipping away at this chore, let one of our expert technicians handle the task. We are dedicated to keeping the roofs and gutters of Houston, TX homes safe and clean. Plus, we offer a quick turnaround time and will respond to your appointment request as soon as possible. Why wait? Take care of your home exterior today with Berger Home Services gutter cleaning.
To schedule a consultation, contact Berger Home Services for gutter services in Houston at (832) 447-1444.
Get Your Free Estimate Today!