Skip to Content
Quick and Affordable Wood Fence Installations in Houston, TX
At Berger Home Services, we may be well-known around the Houston, TX area for our gutter and roofing services, but we are also proud to deliver wood fence installations and repairs for our residential neighbors. A high-quality, efficiently installed wooden fencewill not only give you and your family the privacy you deserve, but it will also add value to your property. We'll also take a look at wooden fencing at your property that needs some attention from professionals. At times, even those seemingly DIY projects require some extra attention from the experts. In those cases, we urge you to call on our reliable home services company.
Extend the Interior of Your Home with a Wooden Fence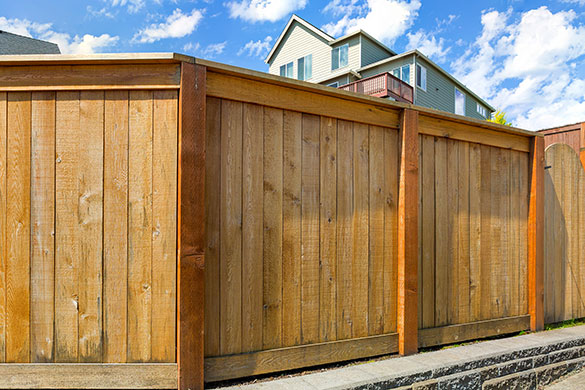 Adding a wooden fence to your backyard encloses the space, making it feel like you've added another living area to your property. A wood privacy fence is an excellent way to make your backyard feel like an extension of your home's interior. Not to mention, a wooden fence is an aesthetically-pleasing choice to up the security of your home without compromising on style. Our team of highly-skilled wood fence contractions can ensure you're set up with a fence that compliments your home while simultaneously protects you and your family against unwanted animals or trespassers. No matter your needs, we have the wooden fencing solutions to meet them.
Need Wood Fence Repair? Call Us!
As a timeless and traditional option, wood fencing remains one of the most popular fencing options for homeowners in the Houston area. Though sturdy, your property's' wood fencing is victim to harsh storms and high winds that can break down the integrity of the fencing system. When this happens, it's best to call on professionals so we can deliver quick and easy repairs. Don't let your home's quality suffer due to some broken or missing planks in your property's fence. Call our team! We're happy to send over our professional wood fence contractors to perform the appropriate repairs quickly and affordably. We look forward to improving and protecting your home with our services!
Get Your Free Estimate Today!