Skip to Content
Wood Fencing Experts In Houston, TX
Our Wood Fences Will Enhance Your Property
Homeowners throughout Houston, TX know Berger Home Services for our gutter and roofing expertise. But our services extend beyond your house and into your yard. We are proud to provide wood fence installation and repair services, as well. Our family-owned and -operated company is committed to delivering customer satisfaction with every project we complete. Clients choose Berger Home Services to install wood fences for added privacy or to boost the curb appeal of their property. We have extensive experience with all types of fencing projects, so rely on us when you are ready to improve the look of your yard. Our experts will ensure cost efficiency and high quality that you may not be able to achieve on your own. Call us today to learn more.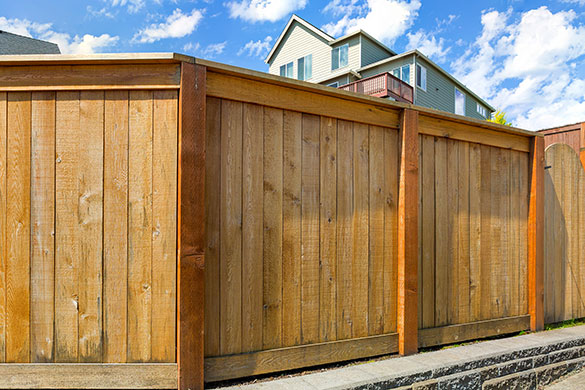 We Provide Expert Wood Fence Installation Services
You have probably seen picturesque homes surrounded by beautiful wood fences in movies or magazines. If you want to make that look a reality on your property, enlist the assistance of Berger Home Services. We can help you impress your neighbors by installing an elegant wood fence around your home. We will consult with you to discuss wood fence costs and the appearance you desire. With your budget and vision in mind, our professionals will get to work. We promise precision and efficiency with each of our fencing projects. As a result, we will erect your wood fence quickly and cost-effectively. In addition to precise installation, we will ensure safety and compliance with all local codes. By partnering with Berger Home Services, you can have a lovely wood fence in no time.
Benefits of Wood Fences
A wood fence surrounding your property is more than just a visual enhancement. Wood fences provide a host of benefits. During your consultation with Berger Home Services, we will highlight these advantages. They include:
Increased Privacy – With a fence surrounding your home, you will prevent nosy passersby from becoming an audience while you play with your kids.
Decreased Noise Pollution – Wood fences can block the sound of vehicles driving up and down your street.
Relieves Property Eyesores – If you have an unsightly tree or a patch of dirt where grass will not grow, a wood fence can block it from view.
Safety – You can help keep intruders at bay by restricting access to your property with a wood fence.
Increased Property Value – For all the above reasons and more, a wood fence will increase your property value and provide a good return on investment.
Our Professionals Can Repair Your Wood Fence
The wide climate swings in Houston, TX can take their toll on your wood fence. After years of exposure to the sweltering summer sun and ensuing hurricane seasons, you may need wood fence repairs. But have no fear. Berger Home Services is here to fix your posts, gates, decaying wood, and more. We can recommend various ways to maintain your wood fence through the years, but repairs are inevitable. Reach out to our friendly team if you notice broken boards, rotting wood, nails falling out, or damaged posts. We will arrange a time to repair your wood fence right away.
Why You Should Choose Berger Home Services
Berger Home Services is committed to delivering complete customer satisfaction with every job. Though we are most well-known for our gutter and roofing services, we have the same work ethic and dedication to excellence when we complete wood fence installations and repairs. Our team is fully insured and trained to perform wood fence services quickly and efficiently. Call us to schedule your consultation.
Contact Berger Home Services for Your Wood Fence Today
Whether the appeal of a wood fence is its ability to enhance the look of your property, increase your family's privacy, or any other reason, Berger Home Services can help. We are proud to provide high-quality wood fence installation and repair services for homeowners in Houston, TX and the surrounding area. Our team of professionals is eager to make your vision a reality. Contact us today for a free estimate.
Get Your Free Estimate Today!