Skip to Content
Professional Roof Cleaning Services in Houston, TX
Get Your Home's Roof Cleaned by Berger Home Services
Sometimes it's hard to tell what's going on up on your home's roof, but you may be surprised to find black streaks or green mold up there. Not only can your roof get dirty, but algae growth can eat away at its structure. Berger Home Services is proud to offer roof cleaning services for home and business owners in the Houston, TX area. Algae growing on your roof can eat away at the limestone filler in your shingles, as well as absorbing moisture, preventing shingles from drying, and shortening the lifespan of your roof. Roof cleaning can improve the appearance of your roof and keep it in pristine condition. Get in touch with us to learn more about roof cleaning costs and the roof cleaning products we use.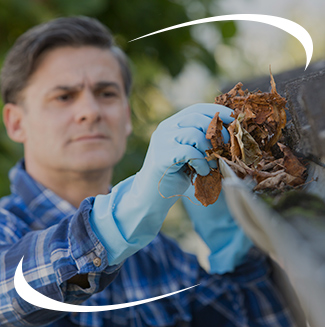 Why Do You Need Roof Cleaning?
Some homeowners have asked us if a professional roof cleaning is necessary or if hosing it down is good enough. Everyone wants a beautiful home or property, and neglecting your roof is not recommended. Just because it's not as easy to see doesn't mean your roof should be adequately cleaned by our trained and experienced team. While beauty is an obvious reason to have your roof cleaned, there are other benefits of having this service performed. A clean roof can increase the efficiency of your property. Your roof shingles are supposed to reflect heat from the sun and not absorb it, helping your home be more energy-efficient and lowering your air conditioning bill. When your roof's shingles are full of algae, mold, and mildew, they absorb heat. Houston has the perfect weather conditions for fungus to grow on roof shingles with our heat and humidity. When these substances grow on your roof, the lifespan of your shingles decreases.
Our Pressure Washing Methods
With years of experience in the industry, Berger Home Services has our roof cleaning and washing services down to a science. We use roof cleaning and washing methods supported by the Asphalt Roofing Manufacturers Association, as well as shingle manufacturers, including Owens Corning, GAF, and more. We use environmentally friendly chemicals that are not dangerous to pets or plants. We do a lot more than just hose your roof down!
What to Expect After Roof Cleaning
Once your roof has been cleaned by our team, you will want to keep it looking and performing at its best for years to come. Most roofs require another cleaning about three to four years after your initial cleaning. In between roof cleaning services, our team can use a protective spray coating each year. This spray coating will kill any fungus and doesn't take long at all. Be sure to monitor the condition of your roof and contact us if you notice anything out of the ordinary.
What Is Removed During Roof Cleaning Services?
Professional roof cleaning services remove several layers of debris, filth, and grime. Other roof cleaning companies may just hose down your roof, but we perform detailed cleanings that expand your roof's life. When we clean your roof, we remove everything, including:
Sticks and Leaves – We start by clearing your roof of any minor debris that may be holding water or hiding place for algae, mold, or other contaminants.
Roof Algae – We remove the black streaks on your roof, known as roof algae. This type of algae commonly forms on shingles, eating the limestone filler and reducing the lifespan of your roof if left unchecked.
Moss and Lichen – We eliminate every speck of mold or lichen. Both forms of growth are known for spreading their roots into your shingles, causing cracks.
A Fully Equipped Home Service Team
We offer all the services you need to protect your home from the elements. We can install, repair, replace, and maintain your gutters and roof. Whether you need a section of your roof needs repaired or you need gutter guards installed, we're your roofing and gutter team. We also perform quick and efficient fence installation services. Leave your roof, gutter, or fence work to the professionals and get your weekend back!
Call Now for a Cleaner Roof!
Customers choose us for all their roof cleaning services because our professionalism and expertise speak for themselves. When you see our team of experienced craftsmen at work, you'll know that you found the best roof cleaning company in Houston, Texas. If your roof needs to be cleaned, don't put it off a second longer. We're ready to get started right away. To get your roof cleaned, call us or fill out a contact form.
Get Your Free Estimate Today!