Skip to Content
HAVE YOU SEEN ALL OF BERGER'S GUTTER SERVICES?
The summer season is about to head into full swing, and you may want to start thinking about setting up services for your home gutter system. At Berger Home Services, our gutter specialists offer a variety of gutter services for residential homes. From gutter screen installation to gutter cleaning near Houston, we offer the services that you need to make sure that your gutters are ready to withstand heavy rainstorms during the summer months. To help you decide on which services you need for your gutters, here is an overview of some of the gutter services that Berger has to offer for your home.
New Gutter Installation
Whether you are building a new home or replacing your old roof, it is important to make sure that your property is protected by a quality gutter installation. At Berger, our technicians can install brand new gutters around the perimeter of your roof. When you trust us for your gutter installation, you can rest assured that your new gutters will remain intact for many years to come.
Gutter Cleaning and Maintenance
At least once a year, it's necessary to take the time to clean leaves, branches, and other types of debris out of your home's gutters. If it has been a while since you last cleaned out your gutters, it may be time to set up gutter maintenance with the team at Berger. Using special equipment, we can completely clear out your gutters and get them flowing again.
Gutter Guard Placement
Gutters that are located underneath mature trees may have a tendency to get extremely clogged with fallen leaves and twigs. To prevent overflows and flooding to your basement and foundation, you can ask Berger to install gutter guards on your roof. Your gutter guards will prevent leaves from collecting in your gutters, and will ultimately help your gutters function more efficiently. Our team will be thrilled to answer any other questions that you may have about our quality gutter services.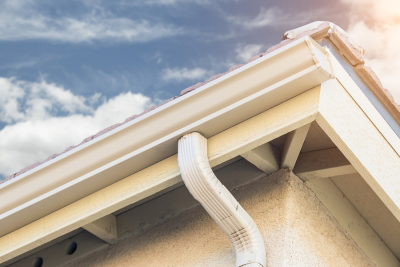 ""