Skip to Content
ARE YOU AT RISK FOR WATER DAMAGE?
If a major storm impacts your local area during the coming summer season, you will want to make sure that your home is ready for excess rainfall. Heavy rains can cause water damage to your foundation, basement, and other structural areas of your home. With covered gutters, you can rest assured that your gutter system is ready to direct water away from your property. A team of gutter specialists in Houston can design a home gutter system that will fully protect your foundation from water damage. To highlight the importance of gutter maintenance, let's review some signs that your home is at risk for water damage.
Your Roof is Missing Shingles
To determine whether water damage is a risk factor for your home, you will need to take a look at your roof. Your home's roof is responsible for preventing water from seeping into your home when it rains. Missing shingles can ruin the water-resistant properties of your home's roof. If you see that one or more shingles have fallen off of your roof, you should have it replaced.
Your Lawn Has an Improper Grade
The grade of your property can have a major impact on the overall water damage risk that is faced by your home. When your home was first constructed, its contractors will have graded the surrounding property so that it slopes away from your foundation. Simple testing can reveal whether your property's current grade is steep enough to protect your home from water damage.
Your Shutters Are Clogged or Broken
Your gutters play a major role in protecting your home from water damage. During a storm, the gutters around your roofline will safely direct water away from your home and foundation. If your gutters are clogged with leaves or starting to break away from the roofline, now is the time to have them repaired or replaced. A new set of gutters will go a long way towards protecting your home from water damage.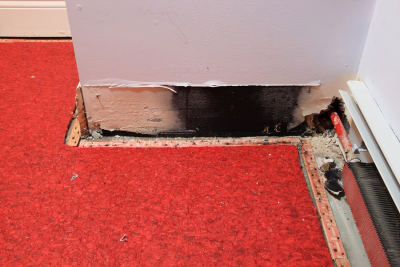 ""